Growing Again in a Post-COVID Economy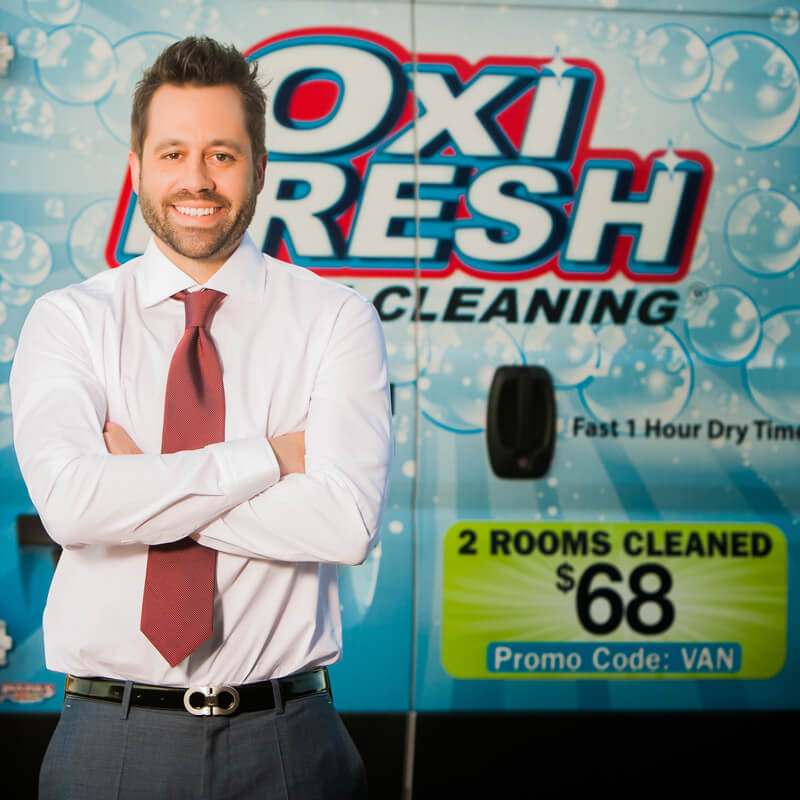 Growing Again in a Post-COVID Economy:
Oxi Fresh Carpet Cleaning CEO Featured in Authority Magazine
LAKEWOOD, Colo. – Jonathan Barnett, the founder and CEO of the carpet cleaning franchise Oxi Fresh, was recently featured in an interview in Authority Magazine. This publication "is devoted to sharing interesting 'thought leadership interview series' featuring people who are authorities in Business, Film, Sports and Tech."
They've interviewed a wide-range of talented leaders in their fields, including Shaquille O'Neal, Jenny Craig, Peyton Manning, and c-level executives from major companies like Google, Comcast, Pepsi, and more.
In this interview led by Charlie Katz, Jonathan Barnett discussed both his business history, some of the guiding principles that he's used to drive the carpet cleaning franchise's rapid growth, and how the current pandemic has both affected business as well as how Oxi Fresh plans to grow post-COVID.
The interview is full of interesting questions and answers, a few of which we wanted to highlight.
Mr. Barnett's Guiding Principle
Mr. Katz asked: "Do you have a "number one principle" that guides you through the ups and downs of running a business?"
Mr. Barnett's response was, "Act like you've got the green light. A lot of folks live their lives waiting for some perfect opportunity, some ideal situation. It's like they're sitting at a red light, except there really is no red light," he said that the 'red light' they are seeing is "their own fears, hesitation, or the unfounded belief that there's a perfect scenario that will show up if they just wait."
He further explained that the world simply doesn't work that way. It doesn't provide perfect chances and clear signs to move forward. Instead, an entrepreneur – or really anyone – has to act like they've got the green light. "Move ahead, take action, don't wait for things to be perfect because they never will be."
The Challenges of COVID and Carpet Cleaning
Later in the interview, Mr. Katz asked about the challenges Mr. Barnett and his carpet cleaning franchise company were facing during this time.
Jonathan explained that, because the Home Office is very collaborative and enjoys working together, being isolated like this is a challenge. Thankfully, he said, the brand already had tools in place to address challenges like this. "We already used Slack, so we just added Google Hangouts and just good old-fashioned conference calls to that. Through these tools, we can all stay in touch and stay informed. It's not the same as being together, but we're making it work."
Naturally, he also addressed the challenges the franchisees have been facing and how Oxi Fresh has been working to support their locations. He talked about how they've deferred fees, added a new disinfectant that targets SARS-CoV-2 (the cause of COVID-19), updated their marketing, and worked hard to stay in regular contact with their franchisees.
Growing Again: Oxi Fresh's Future Plans
One of the last questions in the interview was how Oxi Fresh plans to rebuild and grow in a post-COVID economy. Mr. Barnett said that, throughout the crisis, the carpet cleaning franchise had already been working to plant the seeds for future growth. Their current marketing efforts have kept the brand visible to customers. As things normalize, Mr. Barnett plans to ramp up that marketing so that customers, who had to delay their spring cleanings, know who to turn to.
"We're already seeing great results," said Mr. Barnett after the interview, "with jobs picking back up to pre-pandemic levels. I genuinely think that, as a brand, Oxi Fresh will have come out of this crisis stronger."
You can read the full interview here. To learn more about opening a carpet cleaning franchise with Oxi Fresh, click here. If you're interested in scheduling a carpet cleaning appointment, click here.