Oxi Fresh Named a Top Carpet Cleaning Franchise to Buy
05/17/18 | Categories: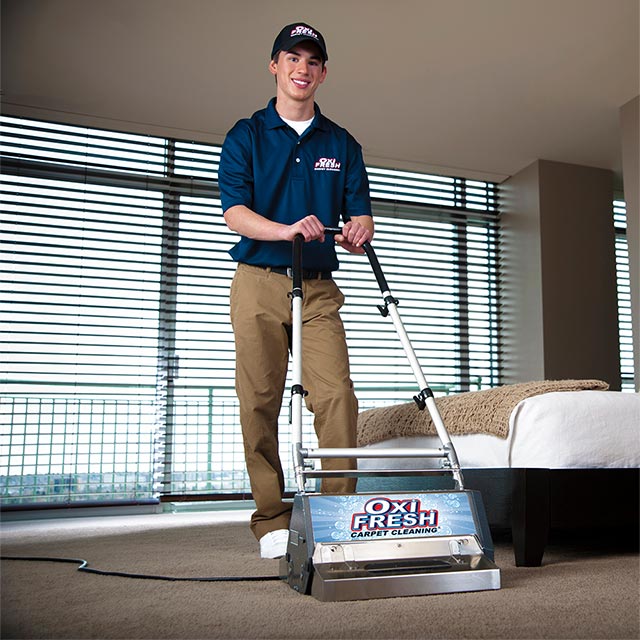 Franchise Chatter Names Oxi Fresh a Top Carpet Cleaning Franchise
Lakewood, COLO. – Oxi Fresh Carpet Cleaning was recently named one of the top five carpet cleaning franchise opportunities of 2018 by Franchise Chatter. In this article, Franchise Chatter identifies the top franchises based on a variety of factors, from their cleaning methods to the overall strength of the brand.
As the author of the article points out, there is a growing demand for carpet cleaning services. Every year in the United States alone, around 11 billion square feet of carpeting and area rugs are installed. In order to maintain these investments, the nation spends on average $5 billion dollars every year.
The challenge facing entrepreneurs interested in this field is a plethora of low-tier, independent carpet cleaners. These cleaners charge low prices and provide low quality results, harming the industry's overall image. As the article details, though, there are large brands that rise far above these small businesses, providing superior cleaning results and customer service.
"A carpet cleaning franchise with Oxi Fresh will put you leagues ahead of a local, independent cleaner," said Kris Antolak, the company's vice president, "where they have to build everything from the ground up, we offer an established brand backed by powerful operational and marketing tools that are designed to help you grow your business."
It was due to those tools that Oxi Fresh ranked in this article. The author cited numerous advantages the company provides its carpet cleaning franchisees. Included in this was the cleaning system itself, an oxygen-powered method that also lifts the carpet pile. The system has been a key factor to the brand's success, not only due to its results but also its fast, one hour dry time.
This system also helps save water – Oxi Fresh conserves 95% of the water that would be used by other cleaners. This factors into the brands green history, which is another draw for both entrepreneurs and consumers. In addition to helping the environment, the brand also donates to Water.org. This non-profit helps families in need around the world get access to safe water and sanitation. To date, they've helped over 8,000,000 people.
The Franchise Chatter article also references Oxi Fresh's #275 spot in the Franchise 500 – a list that Oxi Fresh has ranked in for the last ten years. Oxi Fresh was also named one of the top franchises to buy by Forbes, they've ranked in the Inc. 500|5000, and have been featured in numerous other publications.
"We're really proud to have been ranked as highly as we were by Franchise Chatter. Our carpet cleaning franchise opportunity is really a fantastic option for entrepreneurs looking to own their own business and take control of their future," said Jonathan Barnett, the company's president, "And best of all, all those great features mentioned in the Franchise Chatter article? Oxi Fresh offers our franchisees even more than that. We're committed to providing them with the best tools possible so that they can focus on business growth."
You can read the original article here. To learn more about Oxi Fresh's franchise opportunities, click here. Discover how Oxi Fresh can revitalize your home's carpets here.