Oxi Fresh Carpet Cleaning Named Top Carpet Cleaning Franchise for 10th Year in a Row
02/16/18 | Categories: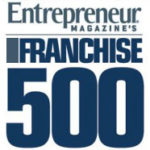 Entrepreneur Magazine Ranks Oxi Fresh in Annual Franchise 500 Ranking
LAKEWOOD, Colo. – For the tenth year in a row, Oxi Fresh Carpet Cleaning was named one of the top carpet cleaning franchise opportunities by Entrepreneur Magazine in their annual Franchise 500 rankings. For this 2018 list, Oxi Fresh earned the #275 position, coming in ahead of companies like H&R Block, Qdoba, Cost Cutters and 1-800-Got-Junk.
For thirty-nine years, Entrepreneur has been providing valuable insight into the world of franchising. They carefully examine five core pillars of the 1,000+ businesses that submit for the Franchise 500, looking at things like costs and fees, size and growth, support levels, brand strength, and financial strength and stability. After reviewing more then 150 data points for these brands, they create the Franchise 500.
Jason Feifer, the editor-in-chief of Entrepreneur, said "This year's Franchise 500 ranking features both up-and-comers who bring fresh ideas to an ever-changing industry, as well as savvy stalwarts that have thrived for decades. We are proud to highlight and celebrate them all.
The corporate team at Oxi Fresh Carpet Cleaning was of course pleased with the results of this year's ranking. "Our team here works hard to ensure our carpet cleaning franchise opportunity is the best one out there," said Kris Antolak, Oxi Fresh's Vice President, "We want our franchisees to have the best chance to grow their business, and we want new entrepreneurs to invest in a business that cares about them. Seeing our ranking this year reaffirms that we're on the right path."
Oxi Fresh was founded in 2006 by Jonathan Barnett, the company's current president and CEO. The brand was built on the principle of fast dry times and green practices. Customers have flocked to the company thanks to their one hour dry time, safe solutions, and quality results.
Since opening, the company estimates that they've helped conserve 35,000,000 gallons of water. Additionally, Oxi Fresh is also a sponsor of Water.org. This charitable organization works with families around the world to help them get access to safe water. They've helped over 10,000,000 people to date, and Oxi Fresh is proud to play a part in their story.
"We are extremely proud of our accomplishments thus far," said Mr. Barnett, "our development as a carpet cleaning franchise serves as a solid foundation from which we can continue to grow as we become the top carpet cleaner in the world."
Oxi Fresh is continuing to seek new single- and multi-unit carpet cleaning franchisees interested in experiencing the varied and numerous benefits of their brand. This includes things like an in-house Scheduling Center that manages all customer calls, an advanced business platform that automates many aspects of the business, and much more. This carpet cleaning franchise opportunity currently has a franchisee fee of $35, 900, with an estimated initial investment requirement of $41,025 – $69,190.
For more information about Oxi Fresh's franchise opportunity, please visit www.oxifreshfranchise.com.
The full 2018 Franchise 500 ranking was published in the January-February 2018 issue of Entrepreneur magazine and can be found online at www.entrepreneur.com/franchise500.