Oxi Fresh's Impressive Growth Featured in Top Franchising Podcast
02/24/23 | Categories: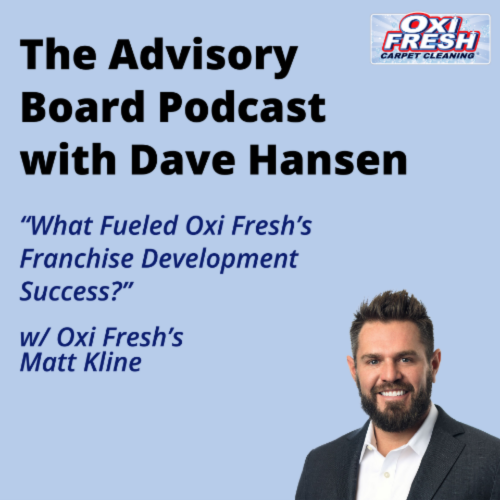 Oxi Fresh's Matt Kline Appeared on a Recent Episode of
The Advisory Board Podcast with Dave Hansen
Oxi Fresh Carpet Cleaning's Director of Franchise Development, Matt Kline, appeared in the most recent episode of The Advisory Board Podcast with Dave Hansen. In this exciting podcast, Matt and Dave discuss Oxi Fresh's history in the world of franchise development, outlining many of the factors and strategies that have enabled Oxi Fresh's remarkable growth. 
After earning a bachelor's in business from the University of Northern Colorado, Matt had his first exposure to entrepreneurship, owning and operating a small landscaping company. But that initial experience was so exhausting and all-consuming that Matt decided then that he'd never own another business again, and he entered the world of IT sales instead.
In 2014, years after Matt had sold his landscaping company and built a successful sales career, he joined the Oxi Fresh team as a Franchise Developer. Suddenly he saw a new kind of business, one that could be owned without necessarily overwhelming your daily life, and soon enough he became a carpet cleaning franchisee himself. 
With Oxi Fresh, franchisees benefit from the extensive support and constant guidance of the Home Office team. Instead of agonizing over the day-to-day minutiae of owning and operating a business, Oxi Fresh franchisees like Matt can live a full life— pursuing a full-time career while still leading a carpet cleaning business in their remaining hours. 
"Take me for example," says Matt. "I'm our Director of Franchise Development—a full-time job that keeps me pretty busy. But because of Oxi Fresh's powerful programs and support systems, I also lead a team of five technicians who clean carpets in territories that are pretty far from where I actually live and work." 
In this podcast, Matt describes how Oxi Fresh built itself up as a turn-key business and expanded its focus to target this new type of carpet cleaning franchisee—semi-absentee owners—leading to much of the brand's amazing growth. In the podcast description, Dave Hansen's team outlines these items as the discussion's key focal points:
Accelerating franchise evolution

Strategy defined around a new persona

Practical advice for growth

Exploring your flaws

Oxi Fresh's culture
If you'd like to watch a video stream of Matt and Dave's discussion, check out the podcast on YouTube. Otherwise, you can listen to this episode wherever you normally access podcasts, such as Apple Podcasts.
The Advisory Board Podcast with Dave Hansen
The Advisory Board Podcast with Dave Hansen offers "Expert Franchising Advice for Franchise Leaders" and features industry experts like Matt Kline who can provide actionable, valuable insights about franchising.  
As the President of ClientTether, an organization that builds and deploys software to help franchising businesses better target their prospects and leads, Dave Hansen also shares his own expert knowledge about the keys to success in the franchising industry. 
Matt Kline and Oxi Fresh Carpet Cleaning appear in the 50th episode of this franchising podcast series. This episode, which is titled "What Fueled Oxi Fresh's Fran Dev Success," was published online on February 20, 2023.
So What Did Fuel Oxi Fresh's Franchise Development Success?
In this episode, Dave Hansen notes that Oxi Fresh's executive leadership team has been remarkably stable over the last decade, while Matt outlines the many benefits of that fact and the reasons why Oxi Fresh has been able to keep these folks around for so long. Oxi Fresh has built a strong culture that's enabled its team to build up years and years worth of knowledge, data, and experience across key departments.
Though the leadership team has been very stable throughout the last decade, they've overseen a lot of change, growth, and development that's been central to the brand's success. When Matt first joined the team, Oxi Fresh was still a young, simple organization. During this time, the Oxi Fresh franchise development program was also relatively simple, and they were targeting a different kind of franchisee than they target most often today. 
In the early days of the business, Oxi Fresh sold carpet cleaning franchises almost exclusively to owner-operators, some of whom were content with that position and less likely to pursue leading a team of cleaners and more expansive levels of growth. Instead, these folks wanted to own their own operation and clean carpets themselves.
Today, Oxi Fresh has expanded its entrepreneurial audience to include an additional type of franchisee persona, and the business model has evolved to better support the needs of both owner-operations and these more growth-minded individuals. In the podcast, Matt breaks down the novel ways Oxi Fresh thinks about its ideal franchise customer: by the sort of lifestyle they lead and the amount of time they have available to devote to the business. 
Instead of mainly targeting full-time owner-operators who clean carpets themselves, Oxi Fresh now targets many individuals who would, like Matt himself, run the business as a semi-absentee owner. This includes folks who have full-time jobs, but may have a limited amount of time during a typical day to manage a carpet cleaning franchise on the side, while their hired team runs the business's day-to-day operations and performs the cleanings. It could also include folks who work a non-traditional schedule, such as three-days-on and two-days-off, or who already run a small business—as these types of individuals often have the free time required to pursue running a carpet cleaning franchise. 
As Matt notes in this episode, Oxi Fresh's franchise development efforts align with overall efforts to build a strong business model. Today, Oxi Fresh has developed a wide range of tools and programs, from marketing automation to full-scale scheduling operations to customized software systems, that make it easy and efficient for entrepreneurs to run a carpet cleaning franchise in their territory. In fact, Oxi Fresh has made it so efficient to run a business that many of its ambitious franchisees now own and manage numerous territories. 
While Matt and the rest of Oxi Fresh's franchise development team spend much of their time showing leads how easy Oxi Fresh can make it to run a business, they've also built a robust resale program that offers significant advantages for the brand as well as its franchisees. 
Matt Kline's Expert Advice
If you're tuning into this podcast for franchise development advice, Matt Kline offers several key tips that have been central to his sales and franchising effectiveness. Here are some of his key suggestions:
Explore your faults

: If someone walks away from the opportunity, ask them why, and then truly listen to their response. From there, take their most valid concerns and work hard behind the scenes to address them, to build a business that mitigates those issues and better supports franchisees' ambitions. 

Don't be pushy

: Instead, be patient. Treat the process as an open-ended dialogue, and always be open, honest, and transparent. Give leads the time they need to analyze and assess the opportunity and make the right decision. Pushing someone through the process just to make the sale is short-sighted—and bringing the wrong people into the organization will hurt your brand down the line. 

Under-sell, over-deliver

: Work hard to build a solid business and an exceptional value proposition, and don't over-sell.

Use technology to build connection

: Using screen sharing and video conferencing technology has changed the game for Oxi Fresh, allowing Matt and his team to better market and showcase their open opportunities while simultaneously building a closer connection with their leads. Once you've spent a couple hours video-chatting with a potential franchisee, you'll have a pretty good sense of whether or not they're a viable fit for the business—from there, Matt suggests you fly them out on the company's dime and let them enjoy the culture and explore the opportunity first-hand.

Support them

: The job of the franchise developer doesn't end when you make the sale. Instead, set your franchisees up so they can effectively pursue growth. That means you build a powerful business that is capable of supporting franchisees in the ways they need to be supported. It also means you provide tangible, actionable tips that help them as they seek to grow their business.
As he outlines this advice, Matt talks with Dave about how fulfilling and satisfying it's been to watch a map of the country fill up with operational Oxi Fresh franchises. 
Franchising at Oxi Fresh
Oxi Fresh's growth in the realm of franchise development is rooted in the brand's ability to make it as simple as possible for its franchisees to effectively market their services and provide exceptional cleanings to their customers on a consistent basis. As Matt outlines in the podcast, Oxi Fresh has continually evolved and expanded its capabilities throughout the years, offering a number of critical systems and tools for its carpet cleaning franchisees, including these key features:
Extensive automated marketing programs, making it easy for franchisees to pursue new business (along with numerous other professional marketing and branding programs, from SEO to content marketing to online review platforms)

An

Online Scheduler

tool, plus a full-scale Scheduling Center staffed with trained, knowledgeable individuals

Customized software systems, which have been continuously improved and expanded upon since the brand launched

Highly effective and satisfying cleaning systems, covering not just residential carpet cleanings but now commercial carpet, upholstery, tile and grout, and wood floor cleanings, as well as a range of specialty services for more advanced or complex situations

Comprehensive training systems, both online and in-person
In short, Oxi Fresh has worked tirelessly to grow and evolve the business, building a franchising opportunity that is flexible, adaptable, and capable of supporting diverse franchisees as they pursue growth in their individual territories. It's no surprise, then, that Oxi Fresh is regularly featured in major publications and has won numerous noteworthy awards. 
Keep Exploring
While Oxi Fresh has achieved remarkable growth in its franchise development efforts, there are still roughly 300 territories available within the United States, many of which are in promising markets with great potential. 
If you're ever curious about exploring Oxi Fresh's carpet cleaning franchise opportunities in more detail, you can get in touch with Matt Kline and the rest of the franchise development team through the online forms at www.oxifreshfranchise.com. 
And the next time you need a great carpet cleaning, trust Oxi Fresh for the job. You can book an Oxi Fresh cleaning anytime through the Online Scheduler, or reach out over the phone at 1-877-OXIFRESH to speak with the Scheduling Center.