Entrepreneur Ranks Oxi Fresh Carpet Cleaning Among Fastest-Growing Franchises
03/15/23 | Categories: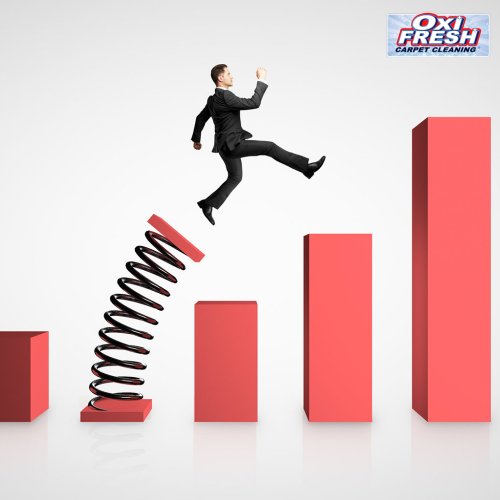 Oxi Fresh Ranks as One of 2023's Fastest-Growing Franchise Brands
After gathering and validating data from North American franchisors, the prominent business magazine Entrepreneur has released its 2023 rankings of the Fastest-Growing Franchises, listing Oxi Fresh Carpet Cleaning as the #135 fastest-growing franchise brand. These rankings were published online and in the March/April 2023 issue of the print magazine.
"As we continue the rapid expansion of our Oxi Fresh franchise concept, it really means a lot to our team to receive this type of recognition from a premier business publication like Entrepreneur magazine," said Matt Kline, Oxi Fresh's Director of Franchise Development. "We are excited to say that we are still on track to having 500 locations open and operating by the end of 2023."
These rankings were formulated based on net franchise unit growth in the U.S. and Canada from July 2021 to July 2022, with ties being broken by percentage growth. While this year's rankings focused on North American growth to better serve the magazine's predominantly North American readers, prior years had taken a broader global perspective.
Oxi Fresh's impressive ranking was also covered on various other websites and news outlets, such as AP News, MarketWatch, and Seeking Alpha.
Entrepreneur's Senior Vice President of Franchising, Liane Caruso, offered the following comment on the importance of these rankings for franchise brands like Oxi Fresh: "Our 2023 Fastest-Growing Franchises ranking recognizes the franchise brands with the greatest growth but also highlights the extraordinary momentum in the industry over the past year. After all, growth is what franchising is all about."
Oxi Fresh's Many Awards and Other Notable Recognitions
Throughout its history, Oxi Fresh Carpet Cleaning has garnered numerous awards from major franchising and business organizations, while also frequently appearing in prominent publications like Franchise Times and Forbes.
The brand's recent ranking as a fastest-growing franchisor is only one of its many important recognitions from Entrepreneur magazine. Last year, for example, Oxi Fresh was listed in Entrepreneur as one of the best franchising opportunities available for veterans and for under $50,000.
Asked for comment, Oxi Fresh's Vice President, Kris Antolak, said, "We're pleased to see such a prominent publication repeatedly recognize the excellence of our franchise development program. Our growth has its foundation in our ability to provide a great service for customers while making it as easy as possible for our franchisees to pursue growth."
Award-Winning Franchising Opportunities with Oxi Fresh
Oxi Fresh's franchisees manage their own businesses in their protected territories, but they operate with the support of the Home Office team. Oxi Fresh's Home Office team provides many technical tools and resources, including a custom-built CRM platform and an Online Scheduler tool, while also overseeing the development and evolution of cleaning systems, sourcing, and more.
The Home Office also hosts a Scheduling Center, staffed with trained professionals who can answer questions, resolve issues, and book appointments. Plus, this team provides a wide range of marketing programs, from SEO guidance to help franchisees rank in local search results to email marketing and more, making it as easy as it can be for Oxi Fresh franchisees to market their services and secure new business.
Many franchisees also appreciate the eco-friendly and responsible nature of the Oxi Fresh carpet cleaning system, which is based around green cleaning principles and regular contributions to the global charity, Water.org.
Learn More!
If you're eager to learn more about franchising with Oxi Fresh, please continue exploring the brand's franchising website. You can also get in touch with the franchise development team through that site's online form to continue learning a whole lot more.
And if you're interested, check out the recent rankings from Entrepreneur or read through Oxi Fresh's profile on the magazine's website.