Franchise Gator Top 100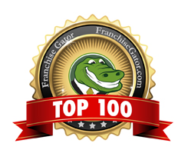 Since 2002, Franchise Gator has been serving the business community as an excellent source of information on franchise systems. Their directory of thousands of franchise businesses includes new franchise systems, veteran systems with hundreds of locations, and everything in between.
Every year, the Franchise Gator team puts together their list of the Top 100 franchise systems available. To create this listing, they look at the growth and stability of franchise system, compare their levels of transparency and engagement to other brands, and consider the investment requirements at play.
Franchise Gator Top 100 – #27 (2019); #86 (2018); #76 (2017); #81 (2016)
In Franchise Gator's list of the Top 100 franchise systems, Oxi Fresh came in at #81. We're thrilled that our carpet cleaning franchise was ranked among such prestigious brands and that we can provide entrepreneurs with an affordable and powerful cleaning franchise system.
In the service business, reputation is everything!
Over 266,478 reviews - 4.65 ranking score.
Our customers love Oxi Fresh Carpet Cleaning!
…our franchise owners love having 5-Stars next to their name on Google.
Oxi Fresh Owners share their stories!