Franchise Times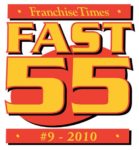 Franchise Times magazine provides franchisees and franchisors with reliable information and resources for building and growing their businesses. The magazine offers insights into companies and conducts important surveys to determine franchise industry trends.
One important survey conducted in partnership with FranData is the Fast 55—a list of the fastest growing franchises in North America. In its 2010 study, Oxi Fresh Carpet Cleaning franchise ranked #9 with an impressive measured growth rate of 671.5%. That means from 2006 to 2010, Oxi Fresh Carpet Cleaning increased in size nearly seven times. That's tangible proof that our cleaning franchise opportunity has true potential.
Fast 55 – #9 (2010)
In the service business, reputation is everything!
Over 273,931 reviews - 4.65 ranking score.
Our customers love Oxi Fresh Carpet Cleaning!
…our franchise owners love having 5-Stars next to their name on Google.
Oxi Fresh Owners share their stories!