Inc. Magazine's 500|5000® Awards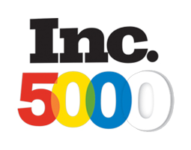 For over thirty years, Inc. magazine has been helping business owners and entrepreneurs through its insightful articles, relevant advice, online guides, and invaluable tools like the Inc. 500|5000®.
This annual list ranks the fastest growing, privately held companies in the United States. When you consider the tens of thousands of businesses out there and the fiercely competitive nature of today's market, getting on this list is an incredible honor.
Inc 500|5000® Rank: #4816 (2019); #3500 (2012); #1525 (2011)
In 2011 and 2012, Oxi Fresh was named one of the fastest growing companies in the whole of the United States. The exceptional growth of our cleaning business franchise is due to our strong business model, excellent franchise support, and a service customers love.
Consumer Products and Services: #178 (2012); #80 (2011)
Denver Area Companies: #66 (2012); #33 (2011)
In the service business, reputation is everything!
Over 266,478 reviews - 4.65 ranking score.
Our customers love Oxi Fresh Carpet Cleaning!
…our franchise owners love having 5-Stars next to their name on Google.
Oxi Fresh Owners share their stories!